Renewable energy sources are more and more relevant each day because of permanent and unstoppable spending of earthly resources, environmental pollution and seeking for independent energy. Heat pumps are more often used for heating of private houses, office buildings, and factories for their possibility to secure low operating costs.
To assist you in obtaining a reliable equipment we collaborate with specialists of heat pumps having high reputation – UAB "TENKO Baltic"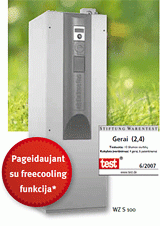 UAB "TENKO Baltic" is a trading -egineering company working in the field of renewable energy and other engineering systems. It offers solutions to the clients, which determine minimal operating costs of heating and ventilation systems. A small but professional team of engineers offers the best concept of the optimal version and gives arguments on financial benefits.
UAB "TENKO Baltic" works only with equipment manufactured by reliable manufacturers, which ensure quality, economy, balance of mind both to the buyer and the seller.
Advantages of Alpha-InnoTec heat pumps are as follow:
WZS series with integrated boiler – probably are the quietest heat pumps on the market – up to 37d (B) A
Each heat pump is factory tested up to 48 hours of operation
Automation – LUXTRONIC 2.0 – in Lithuanian
Earth/ water professional series up to 160kW in one package
An option to choose passive cooling, too
Air / water is a unique design
Country of origin – Germany.
Geothermal heating specialists offer the following services to all clients of UAB "Vilniaus turtas":
Professional technical advice
Selection of optimal version of the concept
Calculations
An individual attractive price!
For more information, please contact UAB "TENKO Baltic" representative:
Alvydas Sakavičius
Tel. 8 656 26013
[email protected]