UAB "Vilniaus Turtas" in collaboration with "KitokiaEnergija.LT" recommends ecological saving solutions – the use of alternative energy sources for generation of electricity and heat.
"KitokiaEnergija.LT" operates in the field of renewable energy sources. They suggest energy generation solutions customized to each individual case, by using:
solar collector
solar cell
wind turbines.
"KitokiaEnergija.LT" represents manufactures tested by time and market, the equipment of which is of the top quality and highest efficiency.
SOLAR COLLECTORS USED FOR GENERATION OF HEAT ENERGY 
"KitokiaEnergija.LT" is an official distributor of the Austrian company SONNENKRAFT in Lithuania in this area. The company SONNENKRAFT since its establishment in 1993 specializes in manufacturing of solar collector systems, and that is why the solar collector systems are the most effective on the market. From 2010 onwards, SONNENKRAFT, together with its partners in different countries offer new generation solar collectors to their clients, which are more efficient, more reliable, lighter in weight and of nicer design. The company has been the market leader for a long time.
More information about the company SONNENKRAFT and its new generation solar collectors can be found at http://www.kitokiaenergija.lt/lt/saules_kolektoriai/
"KitokiaEnergija.LT"services include: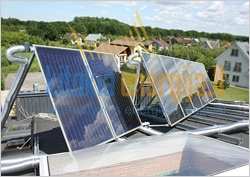 design of solar collector systems with special software
Installation of solar collector systems
Integration of solar collector systems into the available heating system
after-sales service
post-warranty service
SOLAR CELLS AND WIND TURBINES USED FOR GENERATION OF ELECTRICITY
In this area "KitokiaEnergija.LT" offers the top quality equipment of several European manufacturers.  A solution is made after assessment of needs of every individual client. Engineers with big experience design the entire system, from A to Z, and professional installers install them to clients.
"KitokiaEnergija.LT"'services include:
Systems Design
Systems Installation
Integrating of systems into the available electric power system configuration
after-sales service
post-warranty service
All clients of UAB "Vilniaus Turtas" are offered a 10% discount.